If you've been using iTunes to back up your iOS device, the risk of losing data is low. But imagine you have bought a new iPhone and backed up your old iPhone on iTunes. You have also created a password to encrypt the backup. However, when you attempt to restore that backup on the new iPhone, you'll get an error message that says your iTunes backup password is incorrect. This can be very frustrating. You may want to call the Apple Service Center, but nothing will help.
The only way to recover from this situation is by breaking that pesky password and letting the app restore your data. Apple has made it more difficult than before for you to recover or remove that password, but with UltFone iPhone Backup Unlocker, you can do just that.
In this article, we will reveal how you can restoreyour iTunes backup password with UltFone iPhone Backup Unlocker and the amazing features of this tool. Keep reading!
Why Can't iTunes Restore Backup?
If you have used iTunes to back up your iOS device, there is a chance that you're going to face this issue that itunes could not restore the iphone because password was incorrect. The reason behind this error is simple. When you create a new backup on a new device, you can encrypt the backup with a password. This could be a different password from your Apple ID.
When you try to restore the backup on your new or same iPhone or iPad, you will be required to enter the password. If, unfortunately, you have forgotten your password, you won't be able to restore the iTunes backup. But the world full of technology and experts has come up with a solution.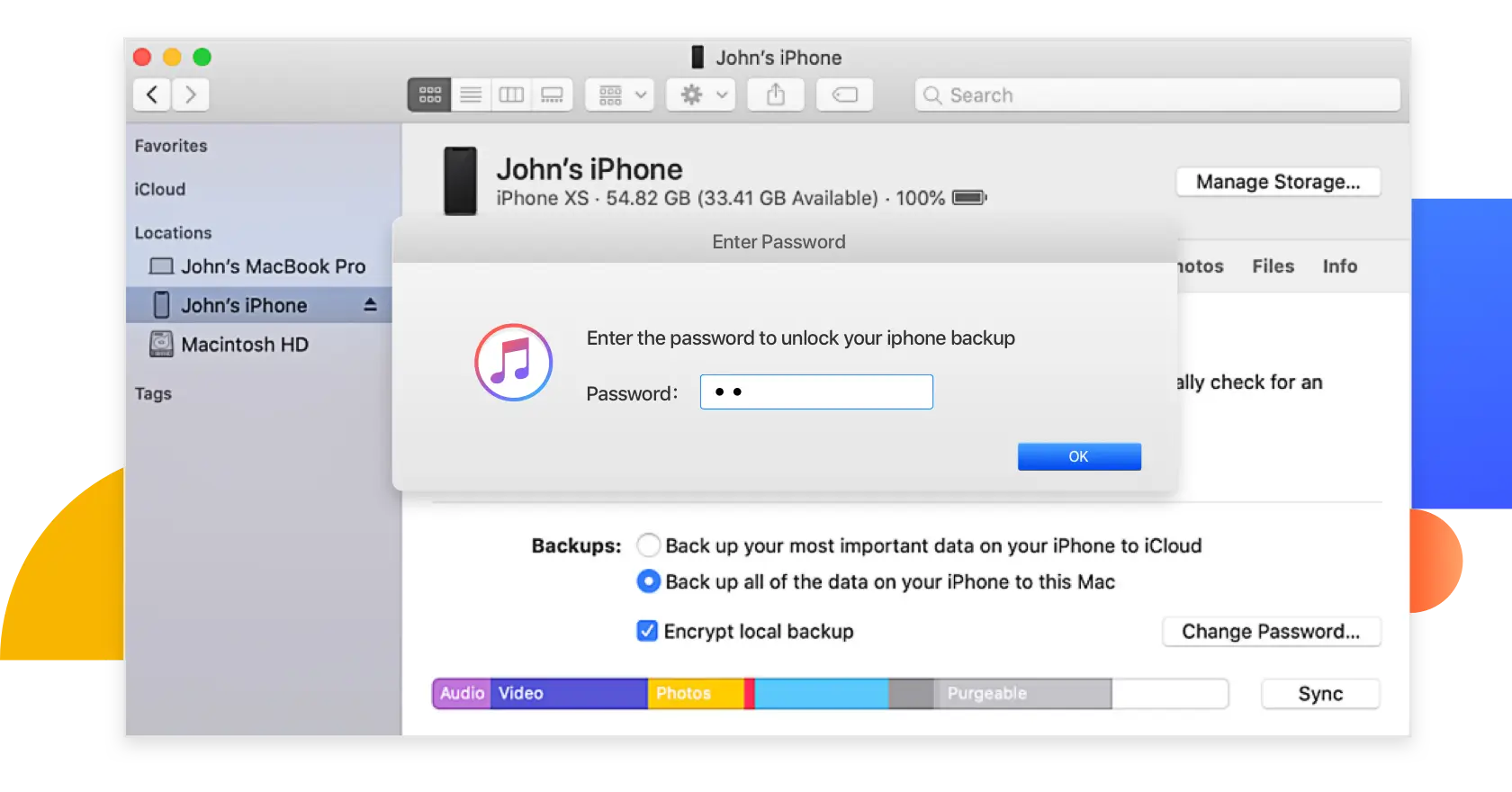 UltFone iPhone Backup Unlocker: the Ultimate Solution
If you are unable to restore your iTunes backup because of an incorrect password, the only way to get your data back is to use a tool like UltFone iPhone Backup Unlocker. The iPhone Backup Unlocker is an amazing tool from the industry-leading software developer, UltFone.
This app can remove the password of an encrypted iOS backup on iTunes. You can use this App to recover iTunes backup password from your old device even if you forget the password.
This tool is available on both Mac and Windows and works with all versions of iTunes. You don't need to jailbreak your device. So, now you don't have to worry about the old photos that were stored in the last backup.
The process of unlocking the iTunes backup password is very straightforward and you don't have to be tech-savvy to use this tool.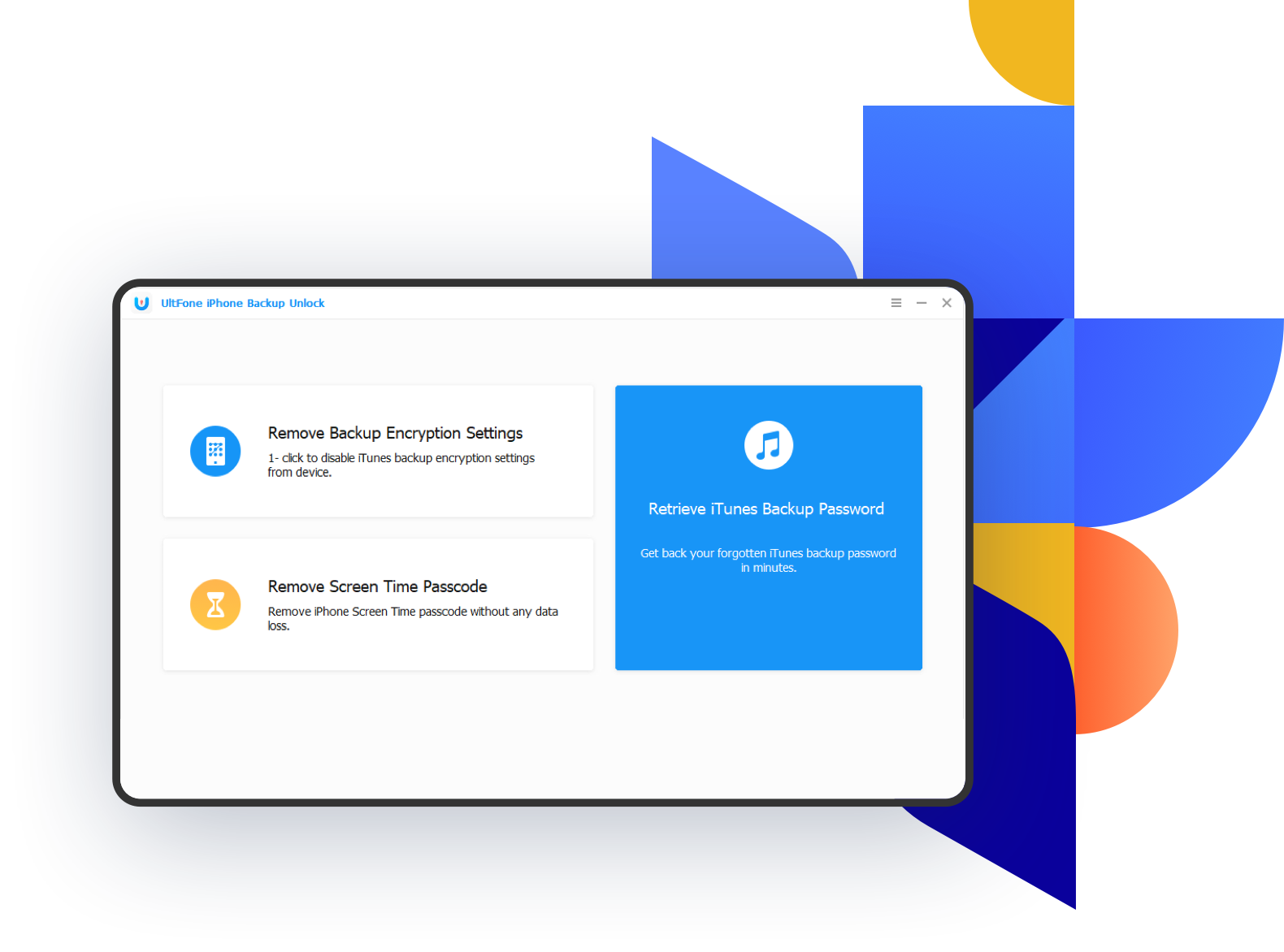 Advantages and Disadvantages
| | |
| --- | --- |
| Advantages | Disadvantages |
| A straightforward procedure torecover or remove iTunes backup password with a high success rate. | Free to download but you have to pay to get a Licenseso as to use all its functions. |
| You can remove screen time passcode without losing data. | |
| It supports all iTunes versions and iPhones.(including iTunes 12.10 and iOS/iPadOS 15). | |
| One click to remove iTunes backup encryption. | |
| Powerful three attack modes. | |
<Insert the video here>
iTunes Cannot Restore Backup because Password Is Incorrect: How to Fix It with UltFone iPhone Backup Unlocker?
The process by which you will be able to remove the iPhone backup password and the operation is very simple.
Step 1 First, you need to download and install it on your Windows PC or Mac. Click on the "Retrieve iTunes Backup Password" option.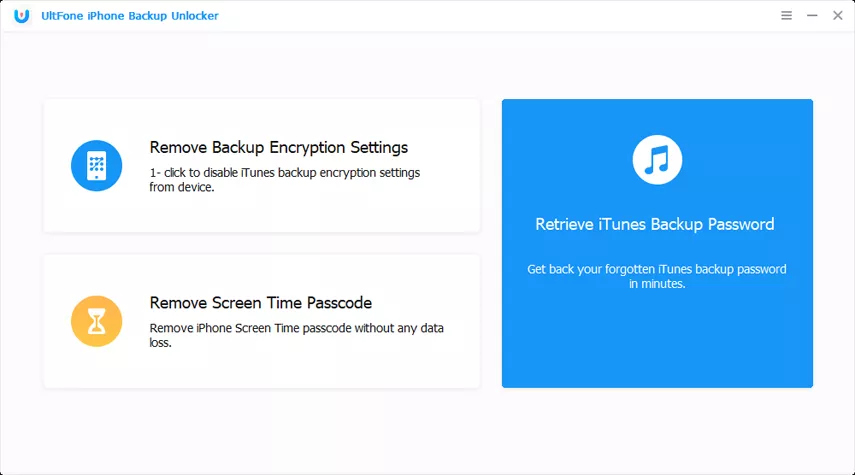 Step 2 Now, you'll be asked to select the encrypted iTunes backup file and then click on "Next."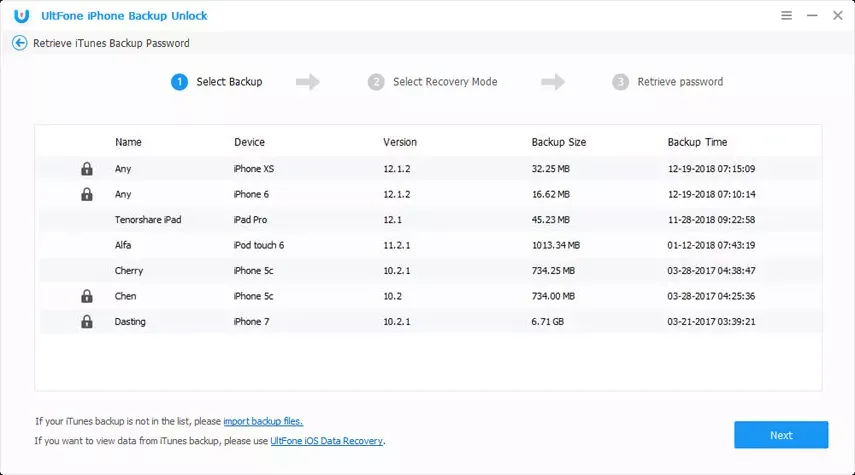 Step 3: Here, 3 attack modes are available. You can select any one of them based on your situation. And then Click Start button to start the recovery process. Wait for a while, you will get your lost iTunes backup password by a pop-up window.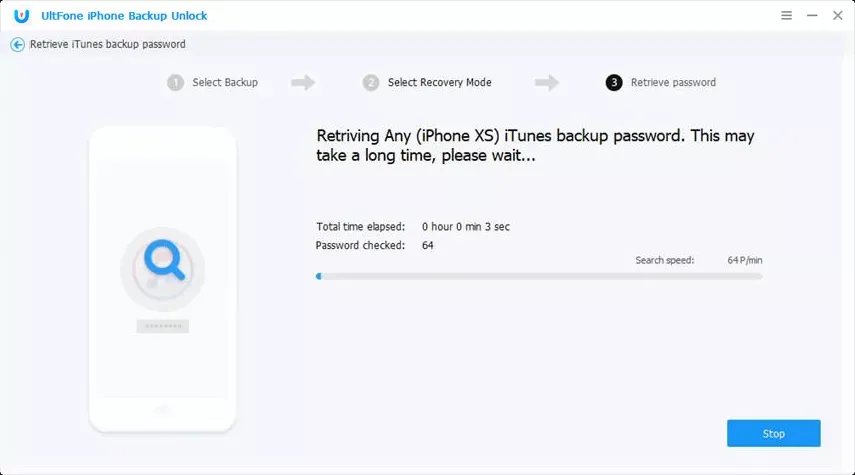 More Insights of UltFone iPhone Backup Unlocker
Magical! This is the term that comes to your mind when this tool unlocks your iTunes backup, right? So, now that you have gotten familiar with how this tool works, let's look at some of the incredible features it boasts.
It Is Fast
By leveraging its robust decryption technologies, the iTunes backup unlocker can quickly unlock the encrypted iTunes backup. With the GPU acceleration technique, the process is 30x faster than the average method.
Safe to Use
This iTunes password recovery program is totally safe to be used. It will never introduce viruses or malware or cause damage to your backup files.
No Data Loss and Flexibility
This process will not result in data loss. Plus, you can pause and resume the recovery process.
Conclusion
With UltFone iPhone Backup Unlocker, you don't have to worry about data loss anymore. This app can recover the password on your iTunes backup and unlock encrypted iTunes backup. So, if you are facing this issue that itunes cannot restore backup because password is incorrect, don't hesitate to use this tool to unlock your iTunes backup password.So, what are you waiting for? Go ahead and give it a try! We promise you won't be disappointed. If you have any further questions, please don't hesitate to contact us! We're always happy to help.
---